History of Kungsörs Boatyard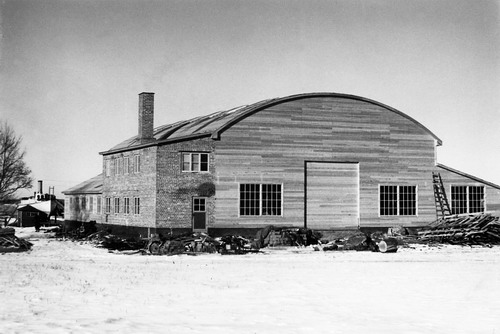 The current yard at Tegeludden was built 1939.
Kungsör's first Boatyard was founded by Oscar Schelin in the year of 1914. The following year he co-founded Kungsör's Yacht Club, and was awarded the commission of the Society's first lottery boat, 22sqm Skerry Cruiser with the dimensions of 8.70 x 1.63 m. The cost was 550 SEK. Oscar was 19 years of age! This was his first "big commission" in an endless stream of Yachts that came to leave his new yard
The KSS lottery boat was constructed in his Uncle George's wagon shop, located far from the water and carried by Society members from the shop to Arboga River to be launched. Rowing boats, motor boats and a host of small craft, built for different Sail Societies, left the wagon shop in this way. The premises were soon to be outgrown!
Oscar Schelin bought, in the year of 1918; a plot of land opposite 'Kungsudden' on a former scrapheap, and here is where he constructed his new Shipyard. Despite his youth he established himself as a skilful shipwright. The yard had three employees. Many boats were constructed at this site, including a number of 22sqm Skerry Cruisers, designed by K E Sjögren.
The Royal National Board´s scholarship was awarded Oscar in 1921 for a two-year education in the USA. The Fellowship amount was 1000 SEK, for travel and accommodation. 800 SEK was immediately swallowed by travel expenses! Eight months later upon returning to Kungsör he described the Americans as: ¨good at series-built boats but they can not compete with Swedish Craft in terms of finish and quality.¨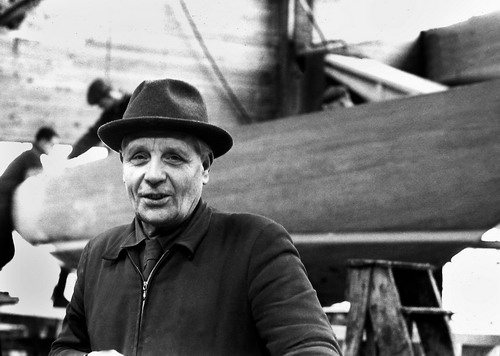 Oscar Schelin 1895 - 1980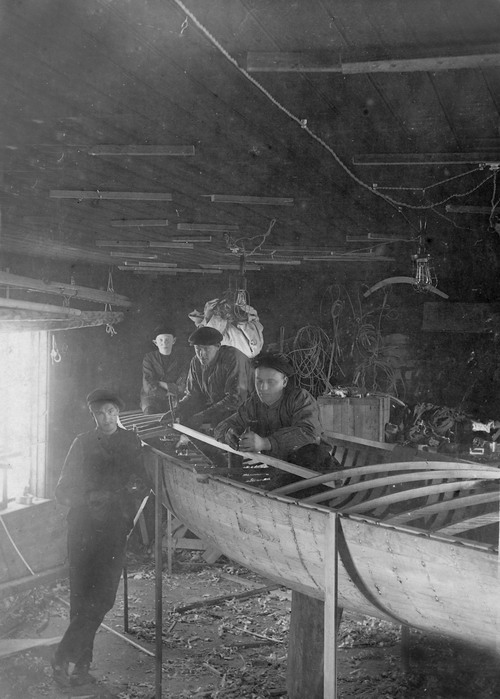 22 sqm. Designer: K E Sjögren. Oscar Schelin first lottery boat built in Uncle George's shop, 1915.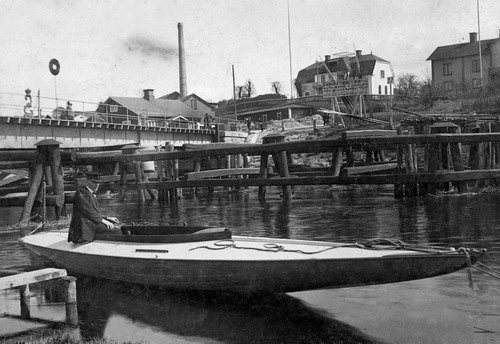 KSS lottery boat 1915. Behind the Sofia Bridge is Oscar's childhood home where his father was the bridge operator.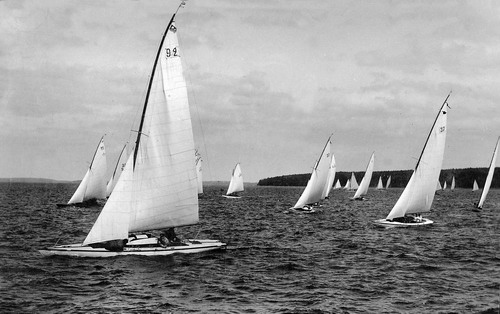 Yacht racing in the 1920s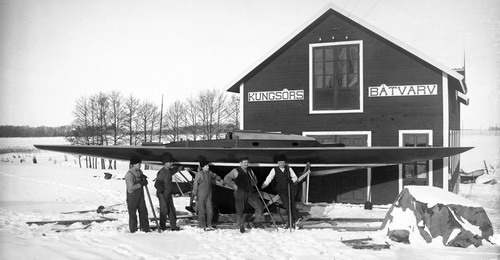 Boatyard at Kristineberg. KSS - Kungsörs Sailing society lottery boat, 1924.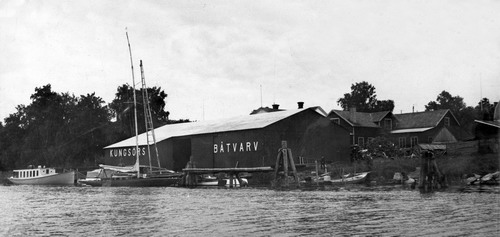 Boatyard at Kristineberg and Erik Sörberg's SK 40 Milonga built 1925.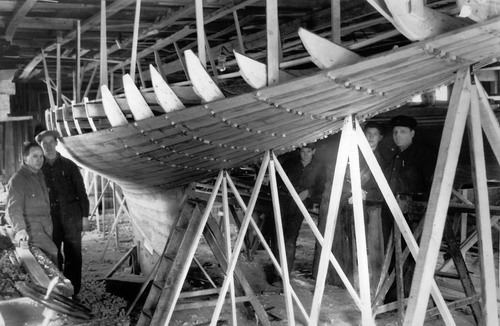 The boats are larger and soon outgrow the premises, Kristineberg 1936.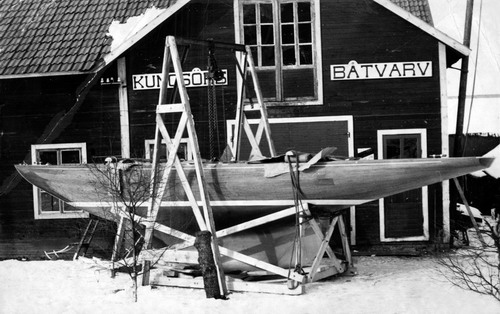 INT. 5A. lottery boat KSSS in 1937. In front of the boatyard in Kristineberg.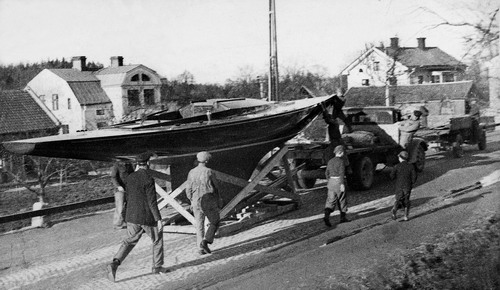 A 30 sqm double-truck towed to the yard for export abroad. 1938.
Also this boatyard was too small.
We are now in the year of 1922 and it is time for Oscar to expand again. He purchased a piece of land in 'Kristineberg'. This site was upstream from the bridge. Unfortunately it was not an ideal location for a shipyard. Traffic on Arboga River was intense and the current very strong. Long Barge-trains crowded together in anticipation of bridge openings. Barges drifted into the yard resulting in constant repairs.
Despite the bad location many award winning Yachts left the Shipyard, well built Crafts that brought Schelin's high quality boat construction fame, both in Sweden and abroad.
In 1936 'Kungsör's Boatyard' erected a frame saw. The mill had greater capacity than the yard required and therefore undertook subcontracting for other Shipyards and wood importers. Oak bars for parquet flooring were another product that left the saw.
Over time the boats had become even larger. Ceiling height was not enough and constructions outgrew of the old premises. Launching became increasingly difficult amongst growing traffic on the River.
'Kungsör's Boatyard', in the 1930's and 1940's, was Sweden's largest manufacturer of boat fittings. The yard constructed models that Söderberg's 'Fixture Factory' in Kungsör cast in bronze. At the yard the raw material were then processed into beautiful shining boat fittings. A large selection of these bronze and brass fittings are still extant and for sale at the yard, for the discriminating Yachtman.
1938 Oscar Schelin bought land at Tegeludden situated at the mouth of Arbogaån. Here was a 600-square-meter building built. Extensive dredging created a perfect port. 1939 was the time for the move. The boatyard was moved from Kristineberg to Tegeludden where there was plenty of room to expand. The boatyard had gained an increasingly expanding order book and also a shipping order by Swedish navy.
Minesweeper M10 and M23 were launched from the shipyard in 1941. These craft were constructed in mahogany and oak. To the horror of all mahogany lovers the finished hull was painted in Navy gray! No surprise there!
During World War II Germany ordered 45 fishing vessels from the Swedish Ship Service. The orders was distributed among various boatyards in Sweden. Four of these trawlers were built at Kungsör's Boat yard.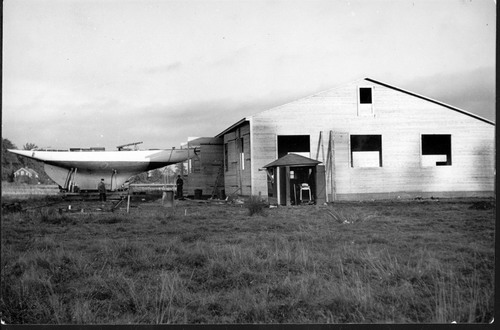 The first house at Tegeludden in 1938. A. Edvald Olsson's 95 Ostsee on the road in to winter storage.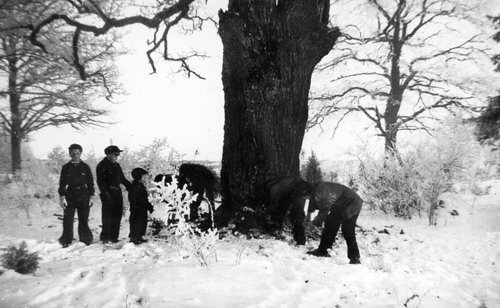 Felling of Oak in Älghagen for the minesweepers. The forest was planted by the Crown for maritime transport. From left Per Schelin, Nils-Erik Granberg and Göran Schelin.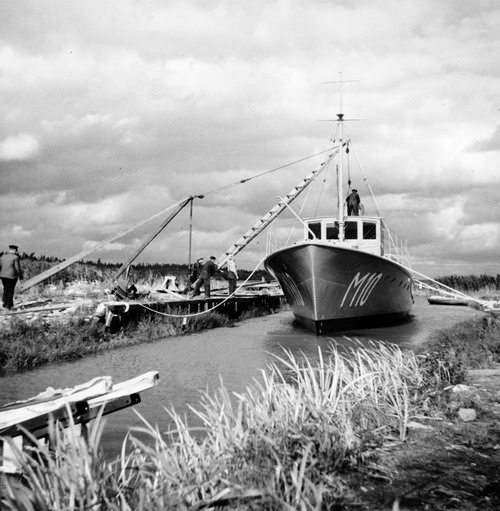 Two Swedish minesweepers built in oak and mahogany, years 1939-1940.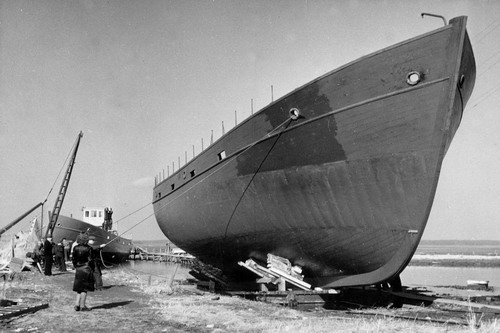 Two of four vessels built for Germany during the 1940s.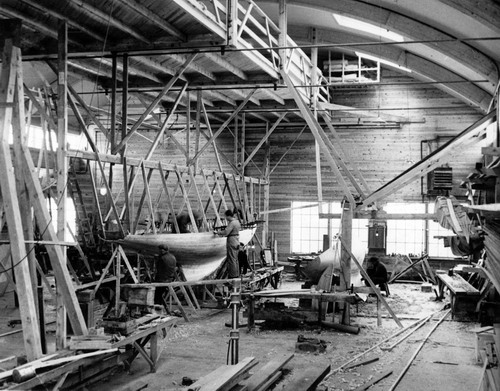 High ceilings. Interior from the new shipyard at Tegeludden, 1942.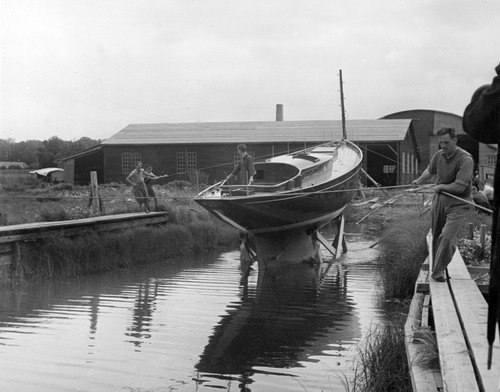 CEO Rygaard´s Sea Cruiser St. Anna launched in 1943.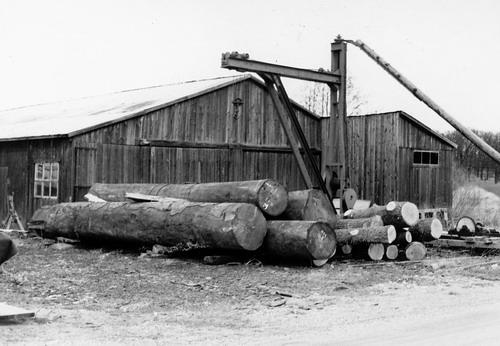 Oak and mahogany logs at Tegeludden, 1946.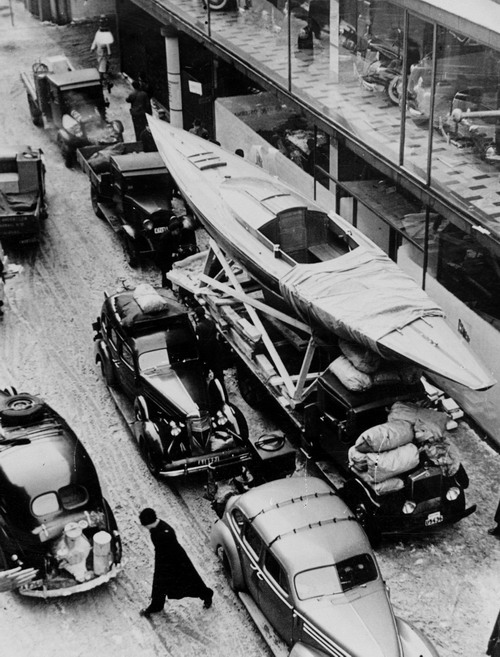 A skerry cruiser 22 m² for the boat exhibition at Ostermans Marble Halls in Stockholm 1946th. The bags on the cars contained wood to produce gas.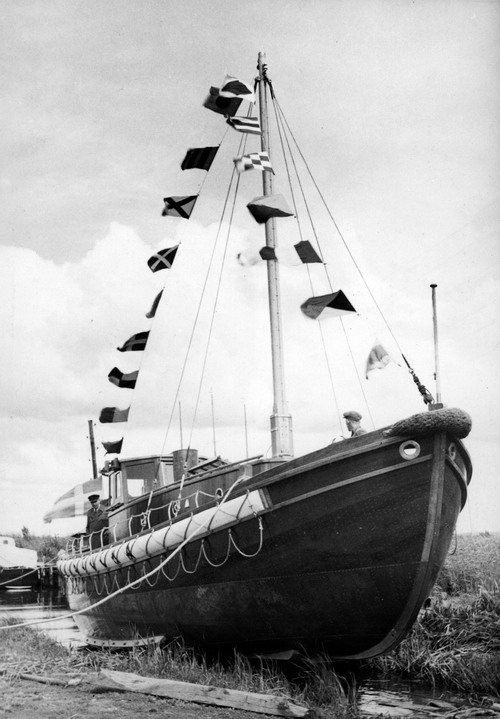 Life-saving boat Stocka, built for Norrland 1948th
Boats with a worldwide reputation
Sailing Craft from Kungsör's Boatyard were exported worldwide. The good reputation of the yard led to the advantageous fact that leading designers commissioned the Shipyard to construct their designs.
A large number of boats went to American customers, including 20 "Ljungströmare" that with its different design aroused great interest in the big country of freedom and big finned cars!
Among the most notable Swedish Craft built at the Yard are the ones for 'Lasse Thörn'. There were three A22;s and five 5:5;s all named 'Rush'. The first 'Rush' an A22, was built in 1936. The last 'Rush VII' was built in 1968 and was also the last wooden boat to leave the boatyard.
The 5:5 'Rush V' took Gold in the Olympics' in Melbourne 1956. 'Rush VII' took silver in Tokyo 1964. Five of the 5:5 boats who competed in Tokyo were built at Kungsörs Boatyard.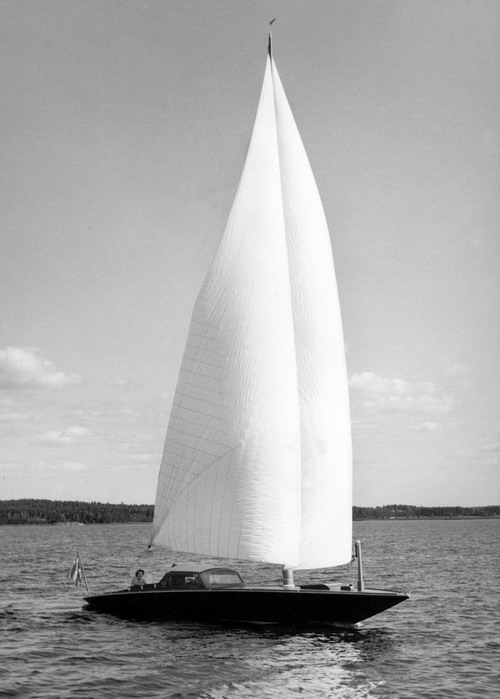 "Ljungströmaren" Elly sailing in the 1950th. Built for export to the United States.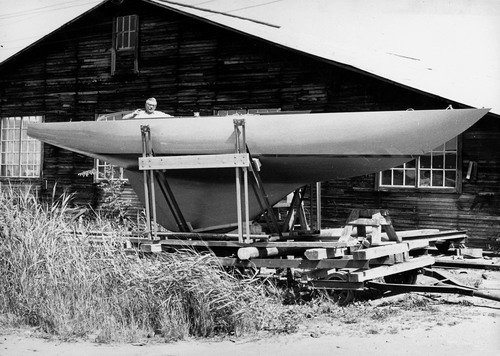 5.5m yacht in front of current plastic workshop, 1959. In the cockpit Oscar Schelin.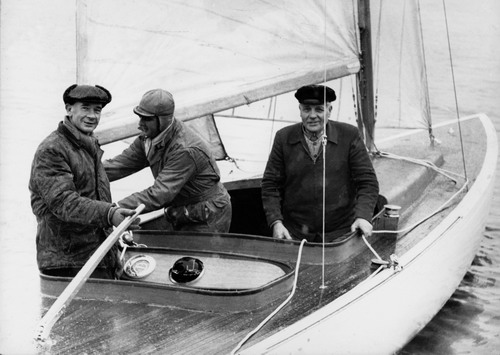 Skerry cruiser 22 m² built for export to Chicago in 1959. Ready for test sailing. From Left: Lasse Thörn, Per Schelin and Oscar Schelin.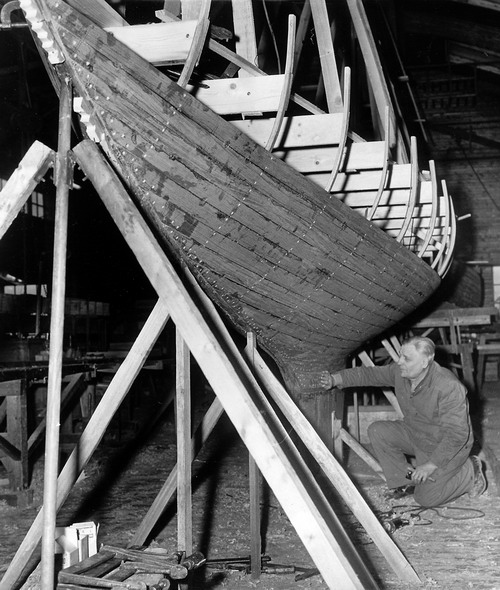 Oscar Schelin at the construction of a 5.5 Metre Class boat in 1962.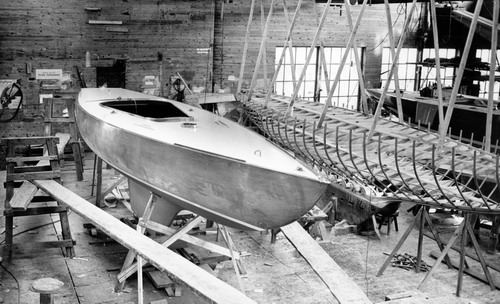 Three 5.5 Metre Class boats under construction.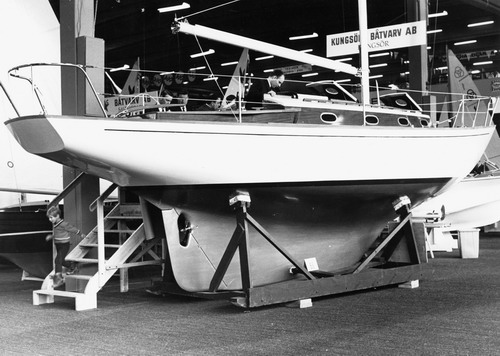 The Schelin Cruiser. The last of four wooden boats that were built at the Yard and became the plug for future construction in fiberglass. Stockholm International Boat Show in 1968.
Per, Oscars son, designed and built 1961 a sailboat with dimensions of 8.50 x 2.50 m, at the time quite impressive dimensions. With this for model Oscar Schelin constructed a boat with dimensions of 10.56 x 2.72 m and called the creation, Schelin-Cruiser. The first boat was ready for launch 1964. The shipyard built four of these in mahogany. The last served as plug for the future fiberglass constructions, undertaken by a manufactory in Köping. The wooden interiors were completed however at the Yard in Kungsör. Later the plastic industry in Norrbotten Karlsvik took over the manufacture of the Schelin-Cruisers.
A more detailed description of Kungsörs boatyard and Oscar Schelin can be found at the Museum Association of Sweden Yachts yearbook 1984, authored by Jannike Henrikson.